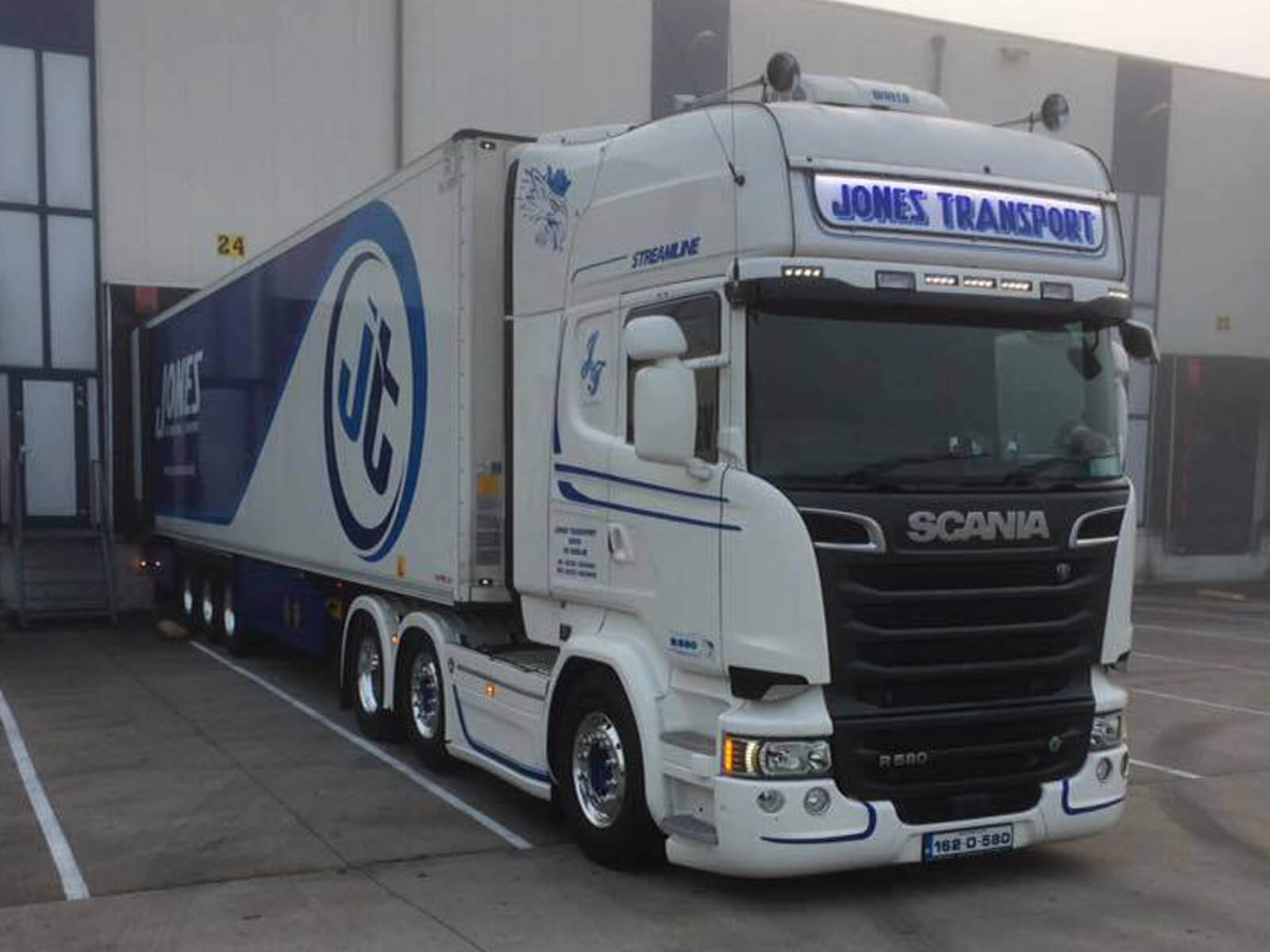 Temperature Controlled
Here at Jones international Transport we have many years of experience in temperature-controlled logistics which lets us offer a comprehensive solution for any product to be delivered in a temperature controlled environment. We develop tailor-made logistics concepts for every category, always transporting the goods at the right temperature.
So be it perishable goods / chemicals / oil based products or food products we will find the right temperature solution for your product.
All our vehicles are fitted with GPS online tracking monitoring systems with gives full traceability and transparency of our customers products. All our trailers are ATP and FRC Compliant with yearly calibrations carried out and preventive maintenance programmes so you know your in safe hands with Jones international transport.
TRACKING AND FLEET MANAGEMENT
All our trucks are fitted with Tracking devices in conjunction with our partner Blue Tree Tracking systems. This allows us return instant information with key vehicle data with the whereabouts of our vehicles are and be in control with detailed information at your fingertips. With live information on vehicle location, fuel level, drivers hours remaining, drivers performance, truck maintenance and compliance. This allows us abstract comprehensive information to maximise the productivity and efficiency of our fleet while reducing our carbon footprint.
TEMPERATURE TRACKING
All our refrigerated trailers are fitted TK TRACKING systems. GPS and GPRS technology is used and linked with the refrigeration unit's microprocessor controller. This enables real-time information about the trailer to be available regarding current location and Current temperature status. It also allows us produce a thermograph in graph format or tabular format for each customer as required at collection or delivery point.
Our refrigeration units are set up with unit alarms, which report immediately showing the code, description of the alarm, severity of the alarm. This is done via text message and email to specified users. We also have Two way control commands which allows approved users to switch the fridge on / off change set point and clear alarms remotely This enables us to protect your cargo, reduce business risks and costs and deliver higher standards. Service at a Call, Mobility Around the Clock.
TRACKING & SECURITY
Tracked every step of the way. From the very beginning of a collection all the way to a delivery – your cargo is not just secure, it is checked, monitored and tracked everystep of the way. When security is paramount, rest assured you can rely on Jones international transport to deliver the goods safely in their controlled environment.